By Simone Davis on January 24, 2009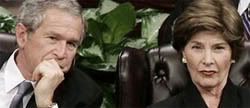 Here's George W. and Laura Bush sitting uncomfortably in the lovely chairs positioned directly in front of the chairs occupied by George H. W. and Barbara Bush at the recent inauguration, during Rev. Lowery's benediction. This photo transports me, mostly without my permission, to many unpleasant memories of the very human events following Hurricane Katrina.
Come with me and I'll tell you why.