By Angelo Lopez on May 28, 2011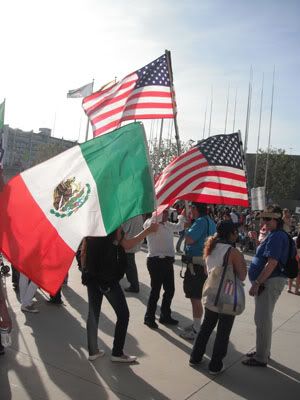 On May 1, 2011, I went to downtown San Jose, California to participate in a march for immigrant rights. It is an important issue for me as the child of Filipino immigrants to support the rights of Latino immigrants, especially since many of these immigrants have been exploited for their cheap labor while being denied many rights to redress injustices inflicted upon them. It's something that other immigrant groups from past have suffered through as well, from the Chinese and Irish immigrants of the nineteenth century to the Filipino, Japanese and Mexican immigrants of the twentieth century. I only began attending public demonstrations about two years ago, when I first attended a vigil for health care reform, and I've learned a lot from walking with activists and listening to their stories.
In American history, there is a proud tradition of grassroots activism, of the early abolitionists, women suffragists, labor organizers, civil rights protesters, antiwar activists, and feminists. I think the people who participated in the immigrants rights march are in the spirit of the early Founding Fathers who wanted an involved and active citizenry willing to petition for their rights.