By Angelo Lopez on April 20, 2011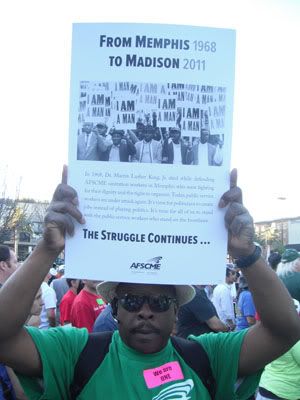 On April 4, 2011 I drove to downtown San Jose, California to attend a rally for workers' rights. The rally was sponsored by We Are One, and it honored Martin Luther King Jr.'s support of the Memphis Sanitation Workers Strike of 1968. The We Are One rally was a great event, with people from all walks of life supporting the workers in Wisconsin and the rights of workers everywhere.

I walked around the crowd asking people if I could take their photos and they were all very happy to oblige. What impressed me were all the different types of workers who attended, from teachers to fire fighters to electrical engineers to technicians. Many of the people that I talked to were inspired by the workers in Wisconsin and the protesters in Egypt and the Middle East. The speakers were great too, especially Cindy Chavez, who was in the San Jose City Council and now a teacher at San Jose State University. Interspersed in this blog are photos that I took of the event.