By Angelo Lopez on July 30, 2008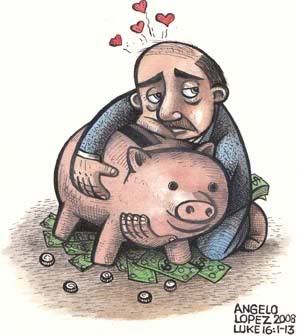 I hope people don't mind a plug. I'm having an art show this coming September in Gallery Saratoga in Saratoga, California. It'll be from September 2 to October 5. I'll have a reception on Saturday, September 6, from 1 p.m. to 6 p.m. If any of you are in the San Francisco Bay Area at this time, I'll be happy if you'd be able to see my art.
This year I did more ink drawings than paintings, and they'll be featured in my show. I do a weekly cartoon for a local California newspaper, the TriCity Voice, where I try to comment on what I see for a general audience.
I also put a more overtly political message in the cartoons that I've submitted for Z Magazine, a political magazine based in Boston. Each week I do cartoon of the Sunday readings for the Sunday bulletin of my church, St. Thomas Episcopal Church in Sunnyvale, California. If you like cartoons, you might enjoy my show...