By Pamela Jean on June 28, 2007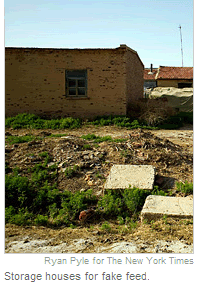 China is rapidly becoming known for faking its food. Hundreds of cases have been documented. China has been adulterating food destined for the U.S. ports with non-food ingredients. These fake or non-food ingredients can be dangerous and deadly.
In two of my previous posts, Counterfeit Food: Simply Profitable, Simply Wrong and Endangered: Best Friends & Homemade Bread, I talked about the tainted and counterfeit foods we are unknowingly importing.
Things seem to keep getting worse, not better.
Now, some 900,000 tubes of toothpaste containing the chemical used in antifreeze products have been found in hotels, motels, institutions for the mentally ill, hospitals, prisons, discount stores, and juvenile facilities in the U.S.
The U.S. Food and Drug Administration has finally warned Americans not to use any Chinese-made toothpaste, regardless of the brand.