By Angelo Lopez on March 18, 2017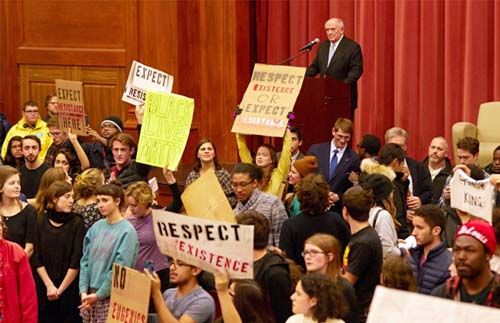 In the past few months, one of the things that has given me hope during the first few weeks of the Trump administration is the passion of people who are engaging in protests and political rallies. There is a renewed interest in civic activism and in protecting the rights of Muslim Americans, immigrants, LGBT people, Jewish Americans, and other vulnerable minority groups. Recently, though, I have read about incidents in Berkeley and in Middlebury College that has me a bit worried when protests go too far. In Berkeley, protesters committed acts of violence and vandalism to stop Alt Right leader Milo Yiannopoulos from speaking at a university event sponsored by a conservative Republican student group. Milo Yiannopolous is a provocative Alt Right speaker who has promoted racism and religious intolerance. In Middlebury College, students shouted down conservative author Charles Murray from speaking at a college event organized by the school's conservative Republican student group. The reason for the protester's ire is Murray's book The Bell Curve, which suggests that some races are genetically superior and more intelligent than other races and that may account for the class stratification in the U.S.
Like the protesters, I too worry about normalizing racism and other types of bigotry. Racism, sexism, homophobia and other types of prejudice should be challenged and protested. I'd support protesting Charles Murray and Milo Yiannopolous through tactics like having audience members turning their backs on the speakers, or boycotting the event so that the speakers talk to an empty room. But if the conservative students group want to invite Murray or Yiannopoulos to speak, Murray or Yiannopoulos should be allowed to speak. There are other ways of protesting rather than shouting people down.
I think the Middlebury administration handled it in the right way. Instead of a monologue where there is no give and take and the audience is asked to just be passive in the face of Murray's views, the college set up a dialogue where Murray's viewpoint could be challenged by a liberal teacher and in a question-and-answer period by the audience.