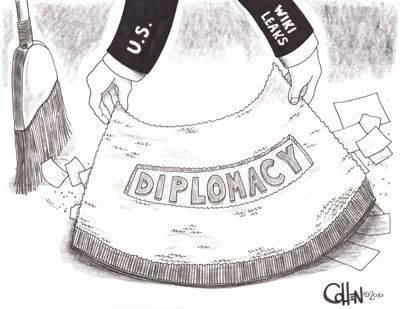 When I first opened up a Facebook account, I had a lot of fun connecting with other cartoonists and artists from around the country. I discovered a lot of cartoonists whose work I had never seen before, wonderful cartoons in local regional newspapers across the country. One of my favorite cartoonists who I met on Facebook is David Cohen. David Cohen was born in New York City, but has lived the last 40 years or so in Asheville, North Carolina- a liberal oasis in the Bible Belt.
His cartoons currently appear in the Asheville Citizen-Times, a Gannett owned daily. David is also a drummer/percussionist, and has played with a number of groups, including a seven year stint with 4-time Grammy winner David Holt and his band, the Lightning Bolts. He is currently playing with a Johnny Cash tribute band. David has a Facebook page to showcase his cartoons with a link here.
I decided to do an interview with him for Everyday Citizen. Here is the interview.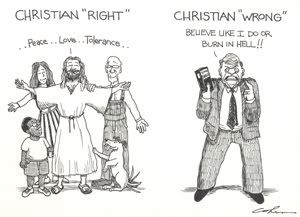 How did you get interested in cartooning?
I was always the class clown as a kid. But I also liked to draw. Some of the earliest things that I drew were war scene collaborations with a couple of classmates. Big pictures with explosions, lots of troops, and mass movements of materiel. My parents had a number of collections of cartoons and I would pore over them again and again. New Yorker cartoon collections, and a couple of Abner Dean books. My relatives in England would send us Giles books, and those proved to be a big influence on me. And MAD magazine! Mort Drucker, Jack Davis, Sergio Aragones, Paul Coker Jr. Those guys influenced a whole generation of future cartoonists!
What were the influences on your political cartoons? Who are your political cartoonist heroes?
The aforementioned Giles, for one. His use of screens for shadowing, his use of bold brush lines and his incredible details. Herblock, Bill Mauldin, David Low-----I love their use of pencil and brush. Someone my father-in-law turned me onto----Arthur Szyk, an incredible WWII era Pole who became an American citizen and was just a phenomenal illustrator and political commentator. Any number of current cartoonists, too. My favorite is Pat Bagley, but you are right up there in the list Angelo!
One of the things I most like about your work is that it is a very personal and distinctive style. It's not just another Jeff MacNelly or Pat Oliphant clone. Did you come up with this style immediately? Or did it evolve gradually over the years?
Believe me, if I could draw like Jeff or Pat, I most certainly would! I learned early on that I couldn't and that I was best served by following my natural inclinations in style and execution, if only to make things easier on me! For many years I drew in a small format, 5"x7", using only black ink, and wielding many different kinds of pens. I gradually moved into larger formats, until I settled on an 8 1/2" x 11" format. I didn't want to spend a lot of time inking in backgrounds (I'm kind of allergic to doing detailed backgrounds anyway), so I started trying to emulate some of my favorite cartoonists and did background fill in with a black Prismacolor pencil. I love the look, and have been employing it ever since.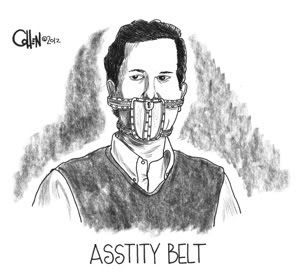 You have a wonderful pencil technique. How do you produce your cartoons?
I take the sheet of 100-lb Bristol, already cut to size. I will write down topics to think about in my sketchbook, and if something comes to me right away, I will start drawing out ideas. Otherwise I spend a lot of time staring at the blank sheet of Bristol, free-associating until something starts to coalesce. I use an HB Faber Castell 9000 pencil to draw, and then I use Faber Castell Pitt Artist pens to ink. The XS, S, F, M, and B (rush) pens. I then go back and erase all of the pencil lines that still show, and then start shading with the black Prismacolor pencil. I scan the cartoon into Photoshop, where I darken it and resize it, and then it is ready to send out, via e-mail, to the different places that show my work.
One of my favorite things about your cartoons is that funky hand drawn typography of yours, with the small "o". How did you come up with that?
I live in an area where the Arts 'n' Crafts movement is very popular. Charles Rennie McIntosh influences abound here, and I believe the small "o" comes from some typography from either him or a designer working in that era and style. I was looking for something distinctive, but I also love the look of it!
How would you describe your politics?
I am a social liberal, and I try to be a fiscal conservative. If, however, someone were to peruse my entire body of work as a cartoonist I'm sure that they could find exceptions to both of those classifications.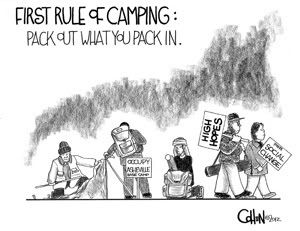 Do you confine your political activism to just your cartoons? Or do you also go on marches, do phonebanking, sign petitions, and other such things?
Pretty much the cartooning and voting. For many years I only drew the cartoons and didn't vote, rationalizing that my cartoons probably had more of an influence on an election outcome than my one vote. After I got married, however, my wife was able to convince me that if I wanted her to stay my wife then I needed to start expressing my right as an American citizen!
Your cartoons are able to show some deep insight into the political scene with just a simple image. Do you have any philosophy when it comes to your political cartoons? Are you going for something with a lot of bite?
I come from a very "old school" of thought when it comes to cartooning. I believe that the least amount of line should be used to get the point across. That includes the least amount of caption. In fact, some of the best stuff (in my opinion) that I have done has had no caption at all. I enjoy reading some modern cartoonists who do multiple panels and use a lot of words, but that has never been my style or my desire to do. Of course I am looking for maximum "bite", but I like to use minimum ink!
Some of my favorite cartoons of yours are not necessarily about politics, but just comment on the general mores of society. What has influenced your views on society?
I came into editorial cartooning fairly late in life. For the majority of my time as a cartoonist, I have been doing humorous gag cartoons. Starting in high school chemistry class, where I filled notebook after notebook with cartoons instead of balanced equations. The teacher laughed and thought they were wonderful, but failed me anyway! Society is like a cartoon; I, like any other humorist, whether as a writer or a cartoonist, just see the world in that way and express ourselves in those forms.
When I joined the AAEC last year, I heard a lot of pessimistic thought about the future of editorial cartooning. What is your take on the state of political cartooning today?
I honestly don't know. I hope that there will always be a place for the free expression of ideas in cartoon form. I think that the platforms are changing, and that right now we are caught up in that volatile period where things are unsettled. When things shake out and reform into venues that pay cartoonists, other than newspapers, I hope that I am still around drawing!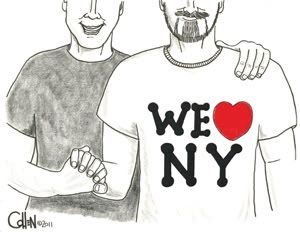 Which of your cartoons has caused the most controversy? What's your take on local cartoons versus national cartoons?
I had one cartoon that caused me some grief around the world (Thank you, Internet!), but I think it was because I wasn't as clear with my message as I should have been, and the image was widely misinterpreted. I had calls from different people around the country and the world, asking me to clarify and defend, but once I talked personally to those folks they agreed that the cartoon was okay and true. But I tell you, I had to grow a couple of new layers of skin on that one! I almost stopped drawing because of the reactions, but like anyone in this business will tell you----the hate mail is just as important as the love mail! I also received some grief about one of my cartoons from another editorial cartoonist, a certain M.L., who has taken umbrage with any number of other cartoonists, and who isn't adverse to letting us know about it. I like his style a lot, but not necessarily his politics. But it all makes the world go around.
As for local versus national, I believe that local is as important, if not more important, than national cartooning. I draw both, but my main focus is local. No other cartoonist knows my town and region better than I do. I draw for my local daily, and have been doing so for almost 5 years. They recognize the validity of commentary that their readers can relate to, and that touches upon trends and events that directly affect them. I love national and international editorial cartooning, and I hope that I can continue to participate in those forums, but I also feel that local cartooning is where things might be the hottest!
One last thing. Tell us about your music career. Your drumming gigs.
I have been a drummer/percussionist for the last 30 years or so. I have played almost every kind of music in pursuit of the $$, including Irish, reggae, fusion, new age, alt-country, rock, soul….. I spent 7 years playing drums for 5-time Grammy winner David Holt, and I am currently playing in two bands, drum kit in a Johnny Cash tribute band, and percussion in a neo-soul/ rock band. Anecdotally, I have heard that many of my fellow scribblers are musicians as well; it must come with the territory!