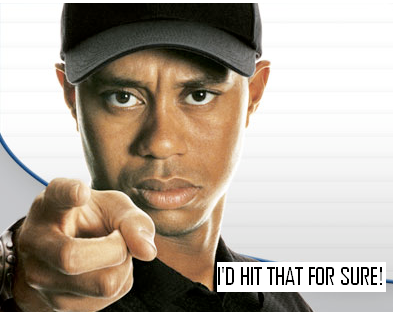 According to Salon.com, " You can now play Tiger's Transgressions, wherein the object is to help Tiger knock out blabbermouth "hos" with "well-timed" drives before they reach a news van." The crazy thing is many people are profiting from the main's indiscretion. There is porn in the making and the game is something extra to add to the craziness that is Tiger's Transgressions.
Don't forget the infamous SLOW JAM.... Let's just say he'll never forget his actions.
Ummm...
As its creator Dominic A. Tocci explains, it's the "most fun and greatest mistress assaulting golf simulator of 2010.
" There are two levels of play, depending on how "easy" you like your hos. Oh, look, there's one sauntering outside the Sex Addiction Clinic. Take a swing! Miss the shot? That's a "ho hitting fail."
The game has already become a major success for Atom.com, breaking records and seeing a increase in users just to the particular game.
According to Salon.com, "So popular is the chick-blitzing game that it's clocked in over 4,600,000 plays since its debut in mid-December, garnering a 91 percent approval rating on Atom."
Tocci is ecstatic that his game is garnering so much success...
"By and large it seems the general public has a sense of humor these days. Sweet."
I wonder if Tocci thought about the ramifications of his actions. So, basically he's saying it's okay to "hit a ho" if she is snitching too much!
Hmmmm..ladies what do you think?
My Thoughts...
Does this game insinuate violence against women? What does this say about our culture and women? Are they just bowling pins in a bowling alley, waiting to be knocked down?
Hmm....
I've played the game to understand the absurdity the creator was going for and I have to tell you, it's a shame that the point is to "silence a ho" before she goes and tells!
Shame...Shame...Shame...
What are your thoughts?
Want to see the game?, click here
Want to read more from Salon.com, click here.