We all sense that there is a big difference between feeling hungry and being afraid of dying due to not having enough nutritious food to eat. Since most of those reading this blog have never experienced the latter, when we hear that some Americans are now experiencing food insecurity, we can mistake that to mean that those Americans are feeling unsure about some future ability to provide food for themselves. But that's not it. Food insecurity isn't a mild fear of future grocery shopping challenges. Food insecurity is indeed health and life threatening. The term food insecurity is used to describe real hunger and the immediate dangers that threaten health when people do not have enough to eat.
A household is considered food insecure when its occupants live in hunger or live in danger of starvation. The term food insecurity originated in the mid-1970s during the discussions of international food problems at a time of global food crisis. Then, the focus of attention was primarily on food supply problems - of assuring the availability and to some degree the price stability of basic foodstuffs at the international and national level. Much has changed since the 1970s. The gap between the rich and poor has widened dramatically. Average incomes have declined, even among the middle class. Many of our social outreach programs have been reduced or eliminated. Existing programs don't reach all the hungry Americans.
With at least one in eight of us facing hunger insecurity and our nation still struggling with a severe economic downturn, do we have the political will to make sure that our fellow citizens can eat during these tough economic times? If so, what exactly will we do?
I know this: The hungry won't be able to eat unless we do something about it. The food they need will not magically materialize onto their kitchen tables.
Today, we learn that a least one in six young children live on the brink of hunger in 26 states in the U.S. The rate of food insecurity in young children is 33 percent higher than in U.S. adults, where at least one in eight live at risk of hunger. More than 35.5 million Americans lived in households (before the recession) unable to consistently purchase adequate food. These results come from the first ever state-by-state analysis of early childhood hunger, using data collected by the United States Department of Agriculture (USDA).
At least one in every eight U.S. residents is not only hungry but also is living in poverty, according to the last official count conducted by the Census Bureau.
But both of the above sources reflect conditions through 2007, well before the current recession. You might guess correctly if you imagine that the true numbers today would be more like one in every six adults and one in every five children are experiencing hunger in 2009.
According to a new report issued today by Feeding America, sponsored by the agri-business ConAgra Foods, more than 12 million children in the United States were previously food insecure - unable to consistently access adequate amounts of nutritious food necessary to avoid illness or to remain alive. The following data was collected by the United States Department of Agriculture (USDA) Economic Research Service (ERS) over a three-year period. The report analyzed it to determine specifically the number of children living in food insecure households by state.
By State - Rate of Food Insecurity Among Children Under 5 Years of Age:
(worst states listed first)
Louisiana - 24.2%
North Carolina - 24.1%
Ohio - 23.8%
Kentucky - 23.3%
Texas - 23.3%
New Mexico - 23.3%
Kansas - 20.9%
South Carolina - 20.7%
Tennessee - 20.4%
Idaho - 20.2%
Arkansas - 20.0%
West Virginia -19.8%
Missouri - 19.8%
By State - Rate of Food Insecurity Among Children Under 18 Years of Age:
(worst states listed first)
Texas - 22.1%
Mississippi - 21.5%
District of Columbia - 21.4%
Tennessee - 20.5%
Arizona - 20.2%
South Carolina - 20.2%
Louisiana - 20.0%
Missouri - 20.0%
Maine - 19.5%
North Carolina - 19.4%
"Children are the engine for economic growth in the United States. Hunger creates unbearable, unsustainable costs that ripple through the economy and prevent economic success." said researcher John Cook, Ph.D., of the Boston Medical Center and Boston University School of Medicine, a nationally-recognized expert on child hunger, who conducted the analysis. "If we fail to give them the nutrition and health supports they need in the first three to five years of life, our economy cannot fulfill its potential."

"The first three years of life are the most critical period of brain growth and development. Child hunger causes physical and mental impairment that may never be reversed. Child hunger also creates tremendous costs that are completely unavoidable. There is no better investment in a prosperous future than investing in ending childhood hunger."
Poverty and hunger on any scale is intolerable in a country as wealthy as the United States. To reduce poverty and hunger - and eventually eliminate them - the United States (we, though our efforts, our politics, our policies, and our priorities) must act more boldly to reach out to hungry neighbors than we have for several decades. We just don't have the time to waste.
Currently, the United States has one of the highest poverty rates among industrialized countries, while U.S. government spending on anti-poverty programming as a percentage of Gross Domestic Product is one of the lowest among industrialized countries. Todd Post, senior editor for Bread for the World Institute, presents these points as crucial for addressing hunger in the United States:

The United States must make a national commitment to ending domestic poverty, establishing targets for a variety of indicators (e.g. hunger, housing, education and health) that will clearly measure whether the country is achieving progress.
Overcoming poverty requires both more personal responsibility and broader societal responsibility, both better choices by individuals and better policies and investments by government.
The United States must develop a strategy that both helps those who are poor get out of poverty and eliminates conditions that allow poverty to persist in our communities.
The chart below, from the Luxembourg Income Study, shows that the United States rates next to the bottom, in term of disposable income. In other words, next to Mexico, the U.S. has the highest rate of poverty when compared with twenty-one other rich counties.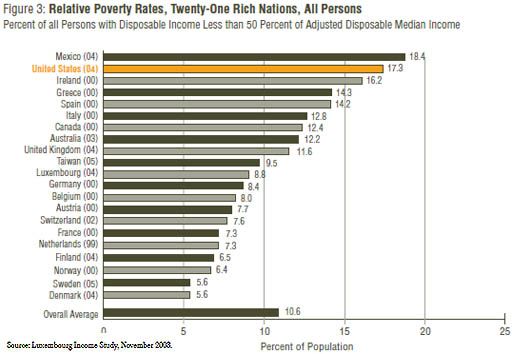 In the current recession, there's enormous competition in our state houses and in Washington D.C. for our public dollars.
So far, in Washington and in the state houses, it appears that our legislators (and by extension, we) are allowing the growing problem of hunger and food insecurity to take a back seat to other priority measures.
Even funds for education should not be prioritized above funds needed for feeding the hungry. Those of you that are familiar with Maslow's Hierarchy of Needs know that satisfying the survival needs of hunger and thirst are prerequisites to everything and anything else that humankind may endeavor to accomplish. Maslow pointed out that physiological needs, including the most basic needs that are vital to survival, including the need for water, air, food, and sleep, are the most basic and instinctive needs in the hierarchy because all needs become secondary until these physiological needs are met.
In other words - food-deprived people cannot work, cannot learn, cannot contribute to the community and, ultimately, cannot survive.
We need to act now - quickly and broadly - to feed our own hungry citizens. If hunger is an emergency that requires immediate attention - what do we need to do? What can we accomplish in a hurry?
Fortunately, we already have programs in place even though the programs are inadequate to the need. If we strengthen these programs, we can reach those in need. We need to use the programs we already have and make sure that our elected officials are prioritizing and voting for legislation and funding for these:
Food Stamps:

Food Stamps have responded to increased need during the current economic downturn. There are more than one million additional people enrolled in the Food Stamp Program compared to just one year ago. The Food Stamp Program currently reaches only 57 percent of eligible working poor households. Food Stamps are effective, efficient and closely monitored. The Food Stamp Program is efficiently targeted to reach people who have the most difficulty affording an adequate diet.

Changes to the Food Stamp Program that reduce eligibility or benefits cannot be adequately replaced by food banks and other private charities, or by local communities suffering the loss of local jobs. These agencies are already struggling to meet growing demands driven by long-term unemployment, falling wages, and rising fuel prices. Eliminating barriers to participation, increasing the minimum benefit provided, funding food stamp outreach activities and innovative access and enrollment efforts by nonprofit organizations are just a few ways the Congress can make this essential program work better.

Commodity Supplemental Food Program (CSFP):

Like Food Stamps, this program is also funded through the Farm Bill. However, it has been threatened to be cut back in the recent past by President Bush and many (mostly Republican) members of Congress. This program is important because CSFP provides commodity food packages for low-income pregnant and breastfeeding women, other new mothers up to one year postpartum, infants, children up to their sixth birthday, and elderly persons at least 60 years of age who meet income eligibility requirements. CSFP food packages do not provide a complete diet, but rather are good sources of the nutrients typically lacking in the diets of the target population. Eligibility for the program is limited to elderly persons with income at or below 130 percent of poverty. State agencies are responsible for establishing income guidelines for women, infants and children. State agencies store the food and distribute it to public and non-profit private local agencies for further distribution to low-income clients. At this time, low-income seniors make up more than 90 percent of the overall enrollment in CSFP. CSFP foods are an essential supplement to the food stamp program for needy mothers, young children, and elderly whose food stamps benefits are too small to allow them buy the foods they need to meet their special dietary conditions. The CSFP is a safety net for specifically targeted populations who fall through the cracks in other food assistance programs.

To protect those receiving nutrition in this safety net program, we need to insist that Congress continue to include reauthorization of this program as part of the Farm Bill and the allocation of sufficient funding during the FY 2009 appropriations process to at least maintain current program caseload. Its funding must be adequate enough to buy same or increased commodities despite the recent increases in food prices.

Emergency Food Assistance Program (TEFAP)

TEFAP is designed to meet the short-term, emergency food needs of low-income Americans. TEFAP is a means-tested program, with income eligibility requirements set by the states, typically between 100 and 155 percent of the federal poverty threshold. It's is a federal program that provides food at no cost to low-income Americans in need of short-term hunger relief. The U.S. Department of Agriculture's Food and Nutrition Service (FNS) makes food products (commodities) as well as storage and distribution grants available to State Agencies and Indian Tribal Governments. The State Agencies that manage TEFAP distribute the product to qualifying emergency food organizations (EFOs), including—food banks, church pantries, soup kitchens, emergency shelters, and Community Action Agencies—which distribute the food directly to those in need or use it to prepare meals. The House Agriculture Committee and Senate Committee on Agriculture, Nutrition and Forestry are the committees of jurisdiction in the Congress.

The program is up for reauthorization this year when the Congress considers the Farm Bill. Not only should we insist that our Senators and members of Congress fullly fund TEFAP at the levels provided under the Farm Bill reauthorization, but also in light of the growing number of hungry households and weakening economy, Congress should include additional funding in economic stimulus packages in the form of onetime stopgap additional funding for TEFAP food.

National School Lunch Program (NSLP) and the School Breakfast Program

These programs play critical roles in providing quality nutritious meals to millions of children every day for free or at a reduced cost. Children from families at or below 130 percent of the poverty level qualify for free lunches, and children from families between 130 and 185 percent of the poverty level qualify for meals at a reduced price. Unfortunately, many children from working poor families often cannot even afford the reduced rate.

While nearly 18 million children qualified for free or reduced-price meals in 2007, just over 8 million of these children participated in the School Breakfast Program. Some schools do not offer the School Breakfast Program, and in others logistical barriers, such as bussing schedules, don't allow enough time for children to eat breakfast before the school day begins. To reach more children, the level of reimbursement for the School Breakfast Program should be increased to encourage more schools to participate.

Summer Food Service Program (SFSP):

Many of America's kids are going hungry in the summer because they cannot access the school lunch programs. Although SFSP is the single largest Federal resource available for local sponsors who want to combine a feeding program with a summer activity program. Through the SFSP, summer programs can provide up to two healthy meals or snacks per day to children and teenagers age18 years and younger at approved central sites in low-income areas. Meals and snacks are also available to persons with disabilities, over age 18, who participate in school programs for those who are mentally or physically disabled.

This program is under-utilized and not reaching the hungry kids it needs to reach. In order to make sure that kids do not suffer during the summer (when school lunch programs are not available), we need to insist that our legislators expand open-site eligibility for the SFSP by reducing the area-eligibility requirement to 40 percent of families with incomes at or below 185 percent of the Federal Poverty Level, restore SFSP meal reimbursement rates to pre-Welfare Reform (1996) levels with adjustments for inflation, and expand Rural Transportation Pilot Programs to encourage sponsorship and participation in rural areas, which are severely underserved in the SFSP. This program has been operational for over 20 years, but has been continuously tightened and made smaller by legislative restrictions. If we want to get serious about child hunger, we will need to make sure that kids get food in the summers.
Even though hunger is a widespread problem in this country, it is solvable. But only if we actually pay attention to it - and stop pretending that hunger only exists in some other continent. We cannot wait until our economy rebounds to address hunger in America. Are we really willing to let people die of hunger in the United States while we complain about the AIG bonuses? We cannot wait until the stock market improves or new green jobs offer salaries to the millions of unemployed. More and more Americans are hungry right now. Those that are hungry simply cannot wait.
Poverty and hunger are "look away" topics. They are the topics we, as a society, tend to turn away from, not wanting to pay attention to - as if we are afraid that these are contagious diseases that we might catch if we spend too much time in close proximity to them. Let's stop looking away now. Haven't we had enough of selfishness in our society yet?
With at least one in eight Americans facing hunger insecurity right now and the nation still struggling with a severe economic downturn, can we make sure our U.S. Congress, our U.S. Senate and our state legislators make hunger relief a priority?
Please take a moment to write your member of Congress and to your Senators and urge them to support the programs and initiatives above. Your efforts will make a difference. That's how we build the political will we need - by doing something about it.