By Kelly Jacobsen on May 31, 2009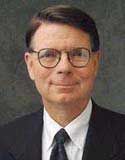 It is ironic that I learned of Dr. George Tiller's death immediately after I got home from my Lutheran church service this morning. As a Christian, I understand the sanctity of the Church and I am deeply saddened that this special haven was tainted for Dr. Tiller's family and friends.
My emotions on the situation are still very raw, so I will refrain from saying too much, but in this time of mourning, I want to say a heartfelt thank you to this man who acted as a last resort and life saver to many women.