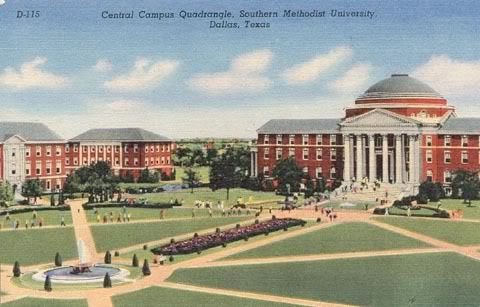 First, historians and archivists complained about censorship. Next, professors and scholars objected. Now, pastors and church leaders have joined the protest against Bush's presidential library.
Southern Methodist University (SMU) is slated to host the George W. Bush Presidential Library on its campus in Dallas, Texas. SMU's leaders are warmly welcoming Bush's library. The Bush library foundation has formally approved SMU as the location. They've hired an architect and are already aggressively seeking donations and funding.
But all is not well. The United Methodist Church's (UMC) Quadrennial General Conference is the UMC governing body. Earlier this month, that governing body voted overwhelmingly - 844 to 20 - to refer a petition to its South Central Jurisdiction, urging it to reject Bush's presidential library, preventing it from being housed at SMU. Signed by 844 Methodist leaders, the petition reads...
I hereby petition the UMC General Conference to prevent leasing, selling, or otherwise participating in or supporting the presidential library for George W. Bush at Southern Methodist University.
Church leaders say that Bush's library does not belong at SMU because the UMC should support instead a separation of church and state. Some leaders have explained that if the Bush library goes on the SMU campus, it could appear to the country and the world that the UMC endorses George Bush and his policies.
Bush is attempting to raise $500 million to build his library and a think tank at the SMU campus. Evidently, it's the "think tank" or "institute" that is raising eyebrows among Methodist church leaders. Even though the Bush library's institute would be independent of the academic governance of the university, it is expected to sponsor research and programs designed to "promote the vision" of George W. Bush and "celebrate" Bush's presidency.
Methodist leaders wish to separate the church from policy promotion. Not only are the church leaders unhappy, but also many academics are displeased with the lack of proper academy oversight:

It's that part of the plan — an institute that is at the university, but not run by standard academic procedures — that has angered many academics.

The public policy programs at the University of Texas at Austin and Texas A&M University that are named for Presidents Johnson and Bush (I), whose libraries are also located there, are regular units of their respective universities. Scholars are judged by normal standards, deans are hired by university presidents, and there is no goal of offering a particular perspective on the respective presidents.

Leaders of the [George W. Bush's] foundation, however, have said that they want to control the institute and that it will have a specific goal of promoting the president's ideas and views.

Faculty critics have pushed SMU to either get the institute moved away from the campus or (on the other extreme) to gain control of it so it would follow regular academic procedures. (SMU's Deal With Bush, Inside Higher Ed)
Not only has Bush's library plans made both non-church academics and church leaders uncomfortable, Bush is also provoking the disapproval from the historian and archivist communities. Presidential libraries - which are managed by the U.S. National Archives and Records Administration - are supposed to be operated for benefit of the public for the purposes of free access to information - by the citizens of the country. Apparently, this traditional purpose and vision is also being altered by Bush.
Bush signed an executive order that limits public access to presidential documents. Bush's order effectively grants current, future and former presidents - and their heirs - far greater discretion to indefinitely classify documents long after the 12-year post-presidency period during which executive privileges have typically applied.
"Any presidential library created under this executive order will be a mockery," said Steven L. Hensen, a past president of the Society of American Archivists and director of technical services for Duke University's rare books library. "There are records, but they could be embargoed by Laura Bush or Jeb or whoever."
"We need to think of presidential papers as raw material, like iron," said Anna K. Nelson, a distinguished historian in residence at American University who represents the Society for Historians of American Foreign Relations. She said that the research, done by a few, trickles down through books, articles and, ultimately, textbooks, to the many, "from iron to steel."
So, in the final analysis, it appears that Southern Methodist University is positioned to host an inevitably closed and opaque "institute" that will seek to promote a particular legacy for its namesake, George W. Bush.
"The whole purpose of a library is [supposed to be] for unfettered, unbiased, critically reflective academic inquiry into the administration of a given presidency. It's not to cheer-lead for a particular president. It's not to be groupies," she said. "We all know very well that this institute — which has no lines of accountability to the faculty — is about getting some scholars lined up to put window dressing on the presidency of George Bush." (Bush Library Will Be A 'Censored Library' And Will 'Cheer-lead' For The President)
Bush's institute is likely to engage in history revision or historical omission, since its records can be sequestered and locked away from public view - very selectively. Its academics will carry the weight and reputation of SMU, yet without the oversight or transparency of its peer review. Material not only can be, but probably will be censored.
Not only are constitutional rights possibly hanging in the balance, but historical integrity may be endangered. And, now, as Methodist leaders point out, an unwholesome relationship between church and state may be made permanent.
We can only hope that the Methodist leaders will wield some influence through their recent petition and public relations drive:

Praying for a last-minute miracle, some Methodist ministers are launching a public relations campaign to try to stop George W. Bush's presidential library, museum and think tank from being built at Southern Methodist University in Dallas.

Although Bush chose SMU for the project three month ago, the opponents have hired a Maine public relations firm to design ads for Methodist publications and do other strategies, said the Rev. Andrew Weaver of Brooklyn, N.Y.

He said the goal is informing people about the partisan think tank, which won't be under SMU's control and will promote the Bush administration's policies — such as the war with Iraq and harsh interrogation techniques of military prisoners — that some Methodists feel conflict with church teachings...

"This is really about the partisan institute, which will do the most damage over time," Weaver said. "And it's not just an issue in Texas. Methodists have pride in their name." (Methodist ministers launch PR campaign to stop Bush library)
The ministers, academics, historians and archivists have convinced me that Bush's library should not be housed at the SMU campus.
I wish the Methodist leaders much success in their efforts to stop George Bush from building it there.