In reference to John Pyle's letter. You are right, John Pyle. There is trouble here. And that "T" does rhyme with "P," but I don't think it stands for prayer. I think it stands for "paranoiac diatribe."
How an editorial stance on a club's vote to allow prayer turns into vitriolic diatribe on the "homosexual agenda" is difficult for me to understand. And when one is going to blast gays, one must include the "bestiality movement" in the same breath; I think the small-minded must think this is necessary to try and dehumanize the gay population of our fellow human beings. Personally, I think tying the two together is pathetic and moronic. Just my opinion.
That being said, I've decided to use my visit with readers here to provide a public service to them. I took it upon myself to research the "gay agenda" and the "bestiality movement."
I called a friend of mine, who happens to be a lesbian, and asked, "What's your agenda?"
She thought about it, and answered, "Earn money. Love my family. Have fun with my friends." I said, "There must be more?" She hesitated and said, "Nope. That's about it. I do like to watch sports. Does that count?"
So, I called another friend, who happens to be gay, and asked, "What is your agenda?"
He answered, "I get up at 7:30, get to work at 8, eat lunch at noon and back home by 5." I replied, "You gay guys are sharp dressers and good looking. You can really get ready in 30 minutes?" With the further prodding he admitted, "I really get up at 6:45."
Then, I thought I had hit pay dirt when he said he was going to attend The Producers on Monday evening. "Aha!" I proclaimed, "You gay guys all like musicals. And I bet you know all the songs of all the musicals and can sing them in key." His answer, "I can't carry a tune in a bucket."
This was going nowhere fast, so I decided to see if I would have more luck in researching the bestiality movement.
Despite the "movement," it is really tough to find someone who will go on record as practicing bestiality. I was beside myself. What to do? Where to go? I found myself out in the country. I looked at the cute little thing next to me and said, "What do you think of bestiality?" She turned to me, her curly hair shimmering in the sun, winked and said, "Baaaaaaaaaaa." Another point proven. Most people get a little sheepish when talking about bestiality.
That very evening, after my interview in the country, as luck would have it, there was a story on bestiality on the Channel 5 nine o'clock news. A 20-year-old guy was caught having sex with his neighbor's dog -- a Rottweiler. This tells me that people that practice bestiality mustn't be very smart. A Rottweiler. He's lucky that -- well, you know. Anyway, there are weeks and months that I don't read, hear or see anything bestiality, but on Feb. 20, I read it in the paper and saw it on the news and in that story it even mentioned a Web site on bestiality. It was a really big day for the bestiality movement.
So, back to the gay agenda.
I decided on one final phone call.
I questioned my friend, who happens to be gay. "What's your agenda?"
His rhetorical, Socratic reply was "What is your agenda?"
I told him, "Well, it's three o'clock. And every day at 3, I go to the bathroom. Right now, that's the only thing on my agenda." He said, "I just went to the bathroom." I remarked, "It appears we have similar agendas."
And that's when it hit me. The gay agenda was just like my agenda and your agenda. We go to work. We earn money for our families. We have fun with our friends. We watch musicals and sports. We all have similar agendas. And gay or hetero, most of them have nothing to do with the bestiality "movement."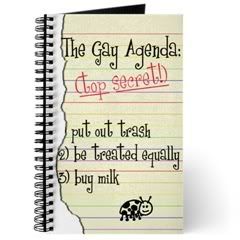 Disclaimer: No gay men, lesbians, heterosexuals or farm animals were harmed in my research for the gay and bestiality agenda. I can't speak for the Rottweiler in Wichita.
* * *
A personal note. One of my best friends and biggest fans passed away early Sunday morning. Helen Stephens was my mother-in-law. She followed my father-in-law's passing by about 10 years. In-laws are the common butts of many jokes, but I loved my in-laws; and I think most married people feel the same way I do.
There are some things I won't miss about Helen; gravy and her roast beef being two of those things. She was not known for her cooking. But I miss her energy and wit. At age 81, she joined us in our trip to Jamaica. She was the star of the trip. Recently, she enjoyed visits with us to The Woodlands. With one eye on the keno board and the other on the track.
Dottie has written a lovely tribute to her mom. If you would like a copy, e-mail me. And then go give your in-laws a hug. Some day they will be gone and you will miss them a lot. I know I do.

(Also published in the HDN)