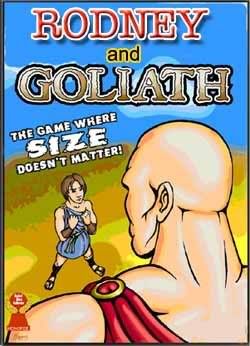 How the giant cursed and came out to fight
With the shepherd boy in the bright sunlight.
Rodney took a stone, slung it round and round,
Then the giant came tumbling to the ground.
(Adapted from David's Song)
For the first time ever, a government agency rejected the construction of a coal plant on the grounds that carbon dioxide is a pollutant regulated under the Clean Air Act. Last Thursday, the Secretary of the Kansas Dept. of Health and Environment (KDHE), Rod Bremby, turned down permits for the building of two new mega-huge coal-fired power plants in southwest Kansas.
Saying that she was encouraged by Bremby's decision, Governor Kathleen Sebelius asked, "Why should Kansans get one hundred percent of the pollution and threats to our health while only getting 15 percent of the energy?"
It may take awhile for these tremors to be felt wherever you live, but it'll kick the dust up there soon. Bremby's decision has sent seismic shudders into the energy industry nationwide.
Coal-fired power plants are one of our nation's largest - and dirtiest - sources of energy. Although these plants already produce about half of our electricity, there are plans on the
drawing board to build over 150 new plants in the next few years all over the U.S.
With new laws to fight global warming expected on the horizon (but not here yet), the coal industry is in a big rush to build as many new plants as possible before pollution safeguards are in place. In an industry motivated by the bottom line, it's not surprising that 85% of this "new generation" of proposed plants would use the same old technology that creates the global warming pollution.
"I believe it would be irresponsible to ignore emerging information about the contribution of carbon dioxide and other greenhouse gases to climate change and the potential harm to our environment and health if we do nothing." (Rodney L. Bremby, Secretary, Kansas Dept. of Health and Environment)
Coal has been a mainstay for utilities. But it's also one of the largest sources of greenhouse gases blamed for climate change. At least 16 coal-fired power plant proposals nationwide have been scrapped in recent months and more than three dozen have been delayed as utilities face increasing pressure due to concerns over global warming.
Kansas already relies more heavily on coal-fired plants than the nation as a whole, receiving 75 percent of its electricity from them, according to Department of Energy statistics.
Bremby's decision this week to deny the air quality permit blocks the construction of Sunflower Electric Power Corp.'s newest $3.6 billion dollar project outside Holcomb, Kansas. Utility companies, including Sunflower, already operate 15 coal-fired units in seven counties in Kansas.
Together the Holcomb plants would have produced 11 million tons of carbon dioxide annually, nearly as much as a group of eight Northeastern states hope to save by 2020 through a mandatory cap-and-trade program they plan to impose. The attorneys general from those states had written a letter opposing the permit. The attorneys general of California, New York and six other states had said approving the plants would undercut their states' efforts to control greenhouse gas emissions.
The Holcomb plant expansion seems to have separated the true Democrats from perhaps some fake ones.
A coal-friendly "Democrat," Lon Wartman of Garden City was recently chairman of the Finney Co. Democratic Party, the county where the Holcomb coal plants were to be built. Wartman announced Thursday he would step down as his county's Democratic chairman, stating, "As despicable as I find the national Republican party, I find the leaders of the Kansas Democratic party even more despicable.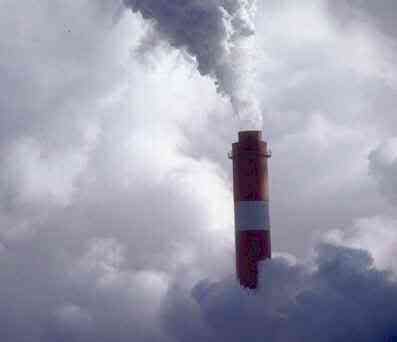 Anyone who would throw a $3.5 billion investment away when it offered the citizens of this great state an opportunity to show the world what can be done with one of the most innovative energy programs ever conceived does not and will not get one minute of my time." Evidently, Wartman resigned in an angry e-mail.
"The Democrats didn't do us any favors, but I'm not giving the Republicans at the state level a free pass on this one," said Garden City Commissioner John Doll. Last week, Doll, a former "Democratic" congressional candidate from the Holcomb and Garden City areas, announced the formation of some sort of a coal industry group called "Kansans for Affordable Energy." We have yet to learn what this group is intending to do.
Evidently, from the name of the group, they may be intending to promote the idea that coal is affordable. We hear that Doll's group is pro-coal and wishes to present "the rest of the story" when it comes to the positives of burning coal as the primary source of energy for the nation.
At one point in 2006, Doll had even written a blog suggesting that it would be a good idea to import coal slurry from Wyoming into southwest Kansas by funding large pipelines at government expense.
Evidently, his idea was that these Wyoming pipes would give slurry to the coal plants in Holcomb and then dump the slurry's "cleaned" waste water into our pristine and endangered Ogallalah Aquifer - the only source of water in five plains states, thereby increasing water levels in the underground aquifer. It seems that Doll had referred to this recycling of coal slurry as "recharging the aquifer." Doll's "coal slurry recharge the aquifer" idea was the subject of much private ridicule and laughter among my neighbors and friends last year. Even though I voted for Doll, I was always having to feel embarrassed by that pro-coal idea of his.
During last year's midterm election, I heard some suggest that Doll's pro-coal views (which became evident during the election) and some of his other unpopular ideas hurt him at the polls since even Democrats did not vote for him in any large numbers. Is it possible that he might have been unable to persuade Democratic voters that he was he was a Democrat? (He lost his only congressional run last year to incumbent Jerry Moran).
"At the national level, I'm still a Democrat, and I probably always will be in my heart," Doll said. "But I feel like they turned their back to us on this decision.
Wartman referred to the coal plant expansion as "the most innovative energy programs ever conceived." What universe is Wartman from? There's nothing innovative about burning coal, no matter what type of cleaning or algae systems you install.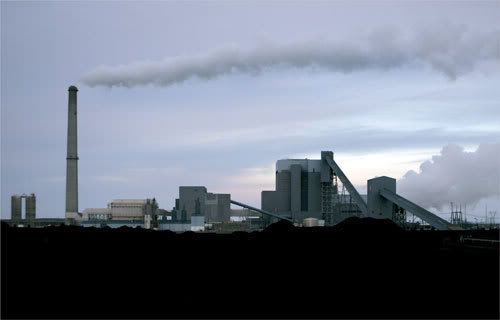 Coal is coal. Apparently, Wartman and Doll are perhaps driven by a desire to create economic activity for their own locality. It seems that they would be willing to throw all concern about the environment and all cautions to the wind, in exchange for an influx of dollars to their town.
No one can blame them for ardently defending their county's desire to grow industry locally. Even so, their support of big coal despite the ill effects it will have on our water, atmosphere and soil seems selfish, environmentally careless, and opposed to the overall common good. You see, those coal plants won't only impact Finney County, Kansas - those coal plants would negatively effect our entire region, and, ultimately our entire planet.
Sure, it's true that coal is cheap, "affordable" and abundant, but it's the worst possible energy choice. Coal overheats the climate; causes grave health problems for tens of thousands of Americans; hurts our environment and our economy; and hobbles our ability to deal realistically with our energy problems.
Fortunately for all of us, the leaders at our state capital do care about the future quality of our air, soil, water and public health.
My view is that the cost to the environment outweighs any economic benefit that would be gained by building these plants. (Mark Parkinson, Kansas Lt. Governor, co-chairman of a Kansas state energy council, Dodge City Globe)
Forty percent of the carbon dioxide released into the atmosphere each year comes from coal-fired power plants, and pollution from these plants has killed more than half a million Americans in the last two decades.
Additionally, coal-fired power plants emit large quantities of toxic air pollutants such as chromium, lead, arsenic, hydrogen chloride, and mercury. In fact, they are one of the largest sources of man-made mercury pollution in the U.S.
After mercury is released in the exhaust, it enters the air and then rains down into our streams, lakes, and other waters where it poisons the fish and seafood that eventually make their way to our dinner tables. The mercury problem in the U.S. is so widespread that every year one in six women of childbearing age has mercury levels in her blood high enough to put her baby at risk.
The same air pollution that causes smog, soot and climate change also causes acid rain. Acid rain occurs when power plant emissions like sulfur dioxide and nitrogen oxides react with water and oxygen in the air to form acidic compounds that fall to the ground. Acid rain falls onto plants and trees and eventually ends up in lakes, streams, and the soil. Once in the environment, the acidic compounds cause different kinds of environmental damage, including damage to trees, loss of aquatic life, and detrimental changes to the soil.
When Kansas Health and Environment Secretary Rod Bremby refused Thursday to grant the permit for two new coal-fired power plants near Holcomb, he passed a tough test of the state's readiness for the future of energy. He also signaled that Kansas is prepared to be a leader among states in reducing emissions linked to global warming. Because Kansas does not currently regulate carbon-dioxide emissions, that took courage and foresight...

In an Associated Press analysis this year, Kansas placed 10th among states for its per capita emissions of carbon dioxide from electric generation, thanks to its 75 percent reliance on coal-fired plants. Such generation will long be part of the energy mix in Kansas, but it doesn't need more such plants. The two new 700-megawatt plants were projected to emit 11 million tons of carbon dioxide a year into Kansas' air, while most of the power they generated left the state.

Gov. Kathleen Sebelius had it right in telling this editorial board in August, "it's not acceptable or appropriate that we would build these merchant plants to sell energy to other folks and impose those health risks on Kansans."

For now, though, Kansans who care about air quality and want to see the state pursue clean energy should feel good about the secretary's willingness to do what's right for their health and their state's environment. (The Wichita Eagle)
Here in my state of Kansas, the growth of coal plants in the Holcomb not only would threaten the health of all citizens living near atmospheric drift, but, these plants directly poison and deplete our ground waters. Water is too scarce and too precious to risk simply for the sake of short-term profit or the illusion of some sort of industrial or economic growth.
The proposed growth of the Holcomb coal plant would emit massive amounts of greenhouse gases and air pollutants, including mercury, sulfur dioxide, nitrogen oxides, and particulate matter.
These pollutants would poison our air, our atmosphere, our water and our soil!
Leaders in our state government have demonstrated the will and the courage to stop the increase of these threats to our health, despite the protests from a couple of marginal Democrats like Wartman and Doll.
"After careful and extended study and serious deliberation, this is the right decision for the health and well-being of the people of Kansas. I commend Secretary Bremby and his staff for their efforts in what has been an extremely complex process.

"As Governor, I am encouraged by this decision, because protecting the people of Kansas - in every corner of our state - has always mattered more to me than anything else.

"Kansas utility companies, including Sunflower Electric, have done a great job providing reliable energy to Kansans. What has become clear, however, is that Kansas must take advantage of renewable energy and conservation as we progress through this century.

"These additional coal plants would have moved us in the wrong direction and far exceed the critical power needs for Kansas homes and businesses. In fact, eighty-five percent of the power proposed to be generated would be sold to customers, not in Kansas but in states like Colorado and Texas. These coal plants would have produced 11 million additional tons of carbon every year - 550 million tons of carbon over the lifetime of the project. Why should Kansans get one hundred percent of the pollution and threats to our health while only getting 15 percent of the energy? While there are some innovative technologies proposed as companions to these coal plants, none will significantly diminish the carbon impact of two new coal plants in our state.

"We will continue to work aggressively for jobs and economic opportunities for western Kansas. We are committed to achieving growth but we must make smart choices about the future. This project was sited in western Kansas but its impact was not confined to one part of our state; it's a decision that affects our entire state and nation. It is critical that our efforts with energy production protect the safety and security of Kansans while pursuing economic opportunities, wherever they may be. This is a decision about all of us - today - and into the future." (Gov. Kathleen Sebelius, Oct. 18, 2007)

The Centers for Disease Control and Prevention has recognized the need for public health agencies to take the lead on educating the public about the health impacts of climate change and has adopted priority health actions to prepare for, respond to and manage the associated health risks of climate change.

In the past, air permits, which are required before construction of combustion facilities, have been denied over emissions such as sulfur dioxide, nitrogen oxides and mercury. Now, carbon dioxide is also an air pollutant - not just because Bremby or Sebelius said so - but because the Supreme Court has also recently said it's so.

The U.S. Supreme Court ruled in April that carbon dioxide was a pollutant regulated by the federal Clean Air Act. In its ruling, our nation's highest court found EPA's refusal to regulate CO2 had caused both "actual" and "imminent" harm to Massachusetts, primarily in the
form of rising sea levels on the coast. The court's majority also noted that "harms associated with climate change are serious and well recognized."

In a move that surprised court observers, the U.S. Supreme Court moved decisively to protect the environment last year, in stark contrast to policies promoted by the Bush administration. These rulings could have a profound impact on global warming, air quality, our natural resources and quality of life.

Of four key rulings, Massachusetts vs. U.S. Environmental Protection Agency (EPA) was the most significant. In a 5-4 decision, the court held that EPA has the authority to regulate greenhouse gas emissions under the federal Clean Air Act and that it abused its discretion by refusing to do so. (Richard M. Frank, executive director of the California Center for Environmental Law & Policy, U.C. Berkeley School of Law)

The first state to follow that Supreme Court's ruling with state administrative policy,

Kansas Dept. of Health and Environment became the first government agency in the United States to cite carbon dioxide emissions as the reason for rejecting an air permit for a proposed coal-fired electricity generating plant...

Kansas, long a conservative Republican stronghold, is not generally considered to be on the leading edge of environmental causes. (Washington Post)

Kansas state officials have taken into account the Supreme Court ruling, the directive from EPA, the science regarding CO2 emissions and other factors. They believe their decision will stand up to appeal, even though ex-presidential candidate, Brownback, believes otherwise:

U.S. Sen. Sam Brownback, who recently dropped out of the GOP presidential race, said denial of the permit for construction of the coal-fueled units in Finney County ran counter to the interests of Kansans. He also proclaimed the decision "does not have statutory authority."

However, Bremby said he relied upon a state law - KSA 65-3012 - authorizing him to deny or modify an air-quality permit to protect the health of persons or the environment. He also cited a recent U.S. Supreme Court ruling that carbon dioxide met the definition of an air pollutant under the Clean Air Act. The state's air quality act has a similar definition of what constitutes pollution, he said. (Topeka Capital-Journal)

Sources explain that state law gives Bremby the authority to declare CO2 a hazard to the environment and public health and, therefore, deny Sunflower's permit based on its potential carbon dioxide emissions, despite the fact that Kansas legislators or administrative offices have not yet established regulations governing carbon dioxide pollution. In other words, it is not necessary for Secretary Bremby to wait for the regulations prior to taking action to protect the health and environment of Kansas and its population.

Recent decisions by the the EPA and the Supreme Court also signal the importance and legality of states such actions to protect health.

Hooray. KDHE rightly says that the greenhouse gas threatens public health and the environment. Other states are likely to follow suit. Why? Common good trumps individual greed. Environmental justice trumps corporate size.

WE - the human species - have arrived at a moment of decision. It is unprecedented and even laughable for us to imagine that we could actually make a conscious choice as a species, but that is nevertheless the challenge that is before us...

Without realizing the consequences of our actions, we have begun to put so much carbon dioxide into the thin shell of air surrounding our world that we have literally changed the heat balance between Earth and the Sun. If we don't stop doing this pretty quickly, the average temperature will increase to levels humans have never known and put an end to the favorable climate balance on which our civilization depends...

The concentrations of CO2 - having never risen above 300 parts per million for at least a million years - have been driven from 280 parts per million at the beginning of the coal boom to 383 parts per million this year....

This is not a political issue. This is a moral issue, one that affects the survival of human civilization. It is not a question of left versus right; it is a question of right versus wrong. Put simply, it is wrong to destroy the habitability of our planet and ruin the prospects of every generation that follows ours....

Our children have a right to hold us to a higher standard when their future -- indeed, the future of all human civilization -- is hanging in the balance. They deserve better than a government that censors the best scientific evidence and harasses honest scientists who try to warn us about looming catastrophe. They deserve better than politicians who sit on their hands and do nothing to confront the greatest challenge that humankind has ever faced -- even as the danger bears down on us....

But there's something even more precious to be gained if we do the right thing. The climate crisis offers us the chance to experience what few generations in history have had the privilege of experiencing: a generational mission; a compelling moral purpose; a shared cause; and the thrill of being forced by circumstances to put aside the pettiness and conflict of politics and to embrace a genuine moral and spiritual challenge. - Al Gore, vice president from 1993 to 2001, currently chairman of the Alliance for Climate Protection, and winner of the Nobel Peace Prize in 2007

What pleases me the most is that in our red state of Kansas, our leaders are showing some additional colors.

Today, we are proudly wearing green - might Kansas be blue tomorrow? The horizon is looking better and healthier and more colorful all of the time.

"After careful consideration of my responsibility to protect the public health and environment from actual, threatened or potential harm from air pollution, I have decided to deny the Sunflower Electric Power Corporation application for an air quality permit.

"I believe it would be irresponsible to ignore emerging information about the contribution of carbon dioxide and other greenhouse gases to climate change and the potential harm to our environment and health if we do nothing.

"KDHE will work to engage various industries and stakeholders to establish goals for reducing carbon dioxide emissions and strategies to achieve them. This is consistent with initiatives underway in states leading the effort to address climate change.

"Denying the Sunflower air quality permit, combined with creating sound policy to reduce carbon dioxide emissions can facilitate the development of clean and renewable energy to protect the health and environment of Kansans." (Rodney Bremby, KDHE, Oct. 18, 2007)

Coal-fired power plants are a leading cause of respiratory illness, and already account for over 40% of our nation's carbon dioxide emissions, the lead cause of global warming.

Is it not enough for you to feed on the good pasture? Must you also trample the rest of your pasture with your feet? Is it not enough for you to drink clear water? Must you also muddy the rest with your feet? Must my flock feed on what you have trampled and drink what you have muddied with your feet? (Ezekiel 34:18-19, New International Edition)

In the midst of this rush to build, we owe it to ourselves and our children to slow down and to consider the truth behind coal before we lock ourselves into a new generation of polluting plants that will be with us for the next 50 years.

Must we muddy the rest of the water?

Thank you, Secretary Bremby and Governor Sebelius.

We are so proud of you.

You make us proud to be Kansans.