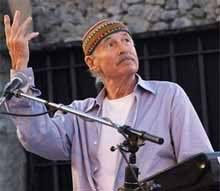 Momma, momma???
I never called my mother "momma..."
I don't think I did, anyway... but I think that where the old song says "cowboys" we should insert the word "musicians..."
I know that the right wing noise machine generated a lot of informational debris to mask the debacle that was unfolding in the Senate this past week... but they didn't manufacture one tidbit of news, and that was the passing of Joe Zawinul. How many of you were hit in the gut by that event? I lost a couple nights of sleep over it and I didn't even know the guy. But his music... his music... his music will be around for a long time... as long as we have electricity and the capability to play the stuff back on our ipods or music players of choice...
Anyway, I'm digressing just a little bit... the point I want to make here is that...
I don't want to offend anybody... I love everybody and I want everybody to love me right back... so I'm saying this with love... some people are authorities on politics, some people are authorities on plumbing, some people are authorities on thermodynamics, some people are authorities on hydraulics, some people are authorities on oral surgery, but everybody, everybody is an authority on music...
Nahhhhhhh, most people don't know a damned thing about music... and really, most people don't give a damn about it... they take it for granted, just like electricity and automobiles... and the air... that's why the death of Joe Z was no big deal for most of us... just another jazz guy, unless of course you're a true jazz buff... then he wasn't truly a jazz musician... and if you ask a serious composer the guy wasn't a composer... and if you ask a world beat musician I suppose he wasn't truly a world beat arteest... nope he wasn't much of anything, but I'll tell you this, he could play circles around 99% percent of the aforementioned idiots... and he created some incredible music...
And he had a stunningly dysfunctional relationship with another incredible musician, Jaco Pastorius... and this where I'm going to sign off and get back to my flooring...
Jaco was beaten to death outside of a nightclub in Florida... the guy who beat him to death served some time... 4 months in jail... now if that same guy had beaten an expert on thermodynamics to death he'd have gotten at least 11 months... if he'd beaten a dental surgeon to death I predict he'd had gotten at least a year and a half, and if he'd beaten a right wing talk show host to death he'd get at least 3 or 4 years... but a musician... a world class musician? Four months...
So, Momma, don't let your sons or daughters grow up to be musicians, and if all your hopes and dreams fail and they become musicians anyway, don't let them be too good at it...