Bill Clinton emerges as the political hero of The Age of Turbulence: Adventures in a New World
, Alan Greenspan's 531-page memoir. The former Federal Reserve chairman levels unusually harsh criticism at President George Bush and the Republican Party.
He argues that Bush and the Republican Congress abandoned the central conservative principle of fiscal restraint.
Greenspan also paints a picture of George Bush as a man driven by ideology and incurious about the effects of his economic policy. His book implies that the Bush administration is one incapable of executing economic policy. The former Fed Chairman, who served under Bush, describes Bush's unpredictability, "I was soon to see my old friends veer off in unexpected directions."
Alan Greenspan was born in 1926 in the Washington Heights neighborhood of New York City. After studying the clarinet at Juilliard and working as a professional musician, he earned his B.A., M.A., and Ph.D. in Economics from New York University. In 1954, he co-founded the economic consulting firm Townsend-Greenspan & Co.
From 1974 to 1977, he served as Chair of the Council of Economic Advisers under President Gerald Ford. In 1987, President Ronald Reagan appointed him Chairman of the Federal Reserve Board, a position he held until his retirement in 2006.
Yet, this long-term Republican and Republican appointee says that a Democratic president was a much better protector of our economy than our current Republican president.
Greenspan describes the Bush decisions by observing, "Little value was placed on rigorous economic policy debate or the weighing of long-term consequences."
Greenspan, who had an eight-year alliance with Bill Clinton and Democratic Treasury secretaries in the 1990s, praises Clinton's mind and his tough anti-deficit policies, calling the former president's 1993 economic plan "an act of political courage."

But he expresses deep disappointment with Bush. "My biggest frustration remained the president's unwillingness to wield his veto against out-of-control spending," Greenspan writes. "Not exercising the veto power became a hallmark of the Bush presidency. . . . To my mind, Bush's collaborate-don't-confront approach was a major mistake."

Greenspan accuses the Republicans who presided over the party's majority in the House until last year of being too eager to tolerate excessive federal spending in exchange for political opportunity. (Bob Woodward)
"House Speaker Hastert and House majority leader Tom DeLay seemed readily inclined to loosen the federal purse strings any time it might help add a few more seats to the Republican majority," Greenspan writes.
My term as Federal Reserve Chairman ended at midnight, January 31, 2006. The following morning, I started to write. You would think after all those years at the Fed and my earlier decades as an economist that I would have learned about as much as I could. But halfway through the book I realized that the story was leading me in surprising directions. I needed to refocus much of what I had written in my original drafts.

The final chapter was to forecast how I thought the world would work in the year 2030. But until I spent a year researching and writing and thinking about "The Age of Turbulence," I had little idea how it would turn out. In fact, I was having so much fun rethinking some of my earlier assumptions, I was as anxious to read it as I hope my readers will be. In the end, I can confidently say writing that final chapter brought me--and the book--closure. It is not the grand finale of Beethoven's Ninth, but for me, it hit the right chord. (Alan Greenspan)
What I particularly appreciate about Greenspan's revelations - now - is that he's willing to admit his public support of Bush's tax cuts may not have been the right course for a Fed chairman. I do wish Greenspan would have been more open and honest six years ago before the major economic damage was done - but, I am grateful that he's coming clean now.
Six years ago, I felt abandoned by Greenspan when he welcomed Bush's wrongheaded ideas. I was disappointed in Greenspan in 2000 and 2001 when raised interest rates as a hedge against the inflationary effects of Bush's upcoming tax cuts.
Not only was Greenspan making room in the economy then for the influx of new ill begotten cash and the increased national deficit, but he was showing his approval of Bush's ill fated tax cuts by doing so. This was made even more clear in Greenspan's subsequent testimonies before Congress.
In my mind, this made Greenspan guilty of conspiring with Bush to increase our debts and costs of goods while underfunding the government - placing new and unnecessary strain on important programs like education, Social Security and Medicare.
Alan Greenspan shares the story of his life first simply with an eye toward doing justice to the extraordinary amount of history he has experienced and shaped. But his other goal is to draw readers along the same learning curve he followed, so they accrue a grasp of his own understanding of the underlying dynamics that drive world events. (from the book jacket of The Age of Turbulence: Adventures in a New World
Now, Greenspan admits that his public support of Bush's tax plan was not the best course. His admission is a little late, but, I'll take it.
In this new book, Greenspan further acknowledges that those who had warned him against creating the perception of backing Bush's plan were right.
"The tax-cut testimony proved to be politically explosive," he says with some sort of personal remorse about how Republicans jumped on his endorsement of the 2001 tax cuts.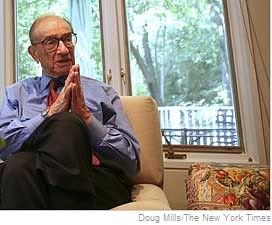 According to Greenspan, the Republicans used his endorsement to push through unconditional cuts without any safeguards against surprises.
Mr. Greenspan, a lifelong Republican who presided over the longest sustained economic expansion in American history, sounded frustrated that neither a Republican White House nor Republican leaders in Congress were heeding his quiet pleas for greater fiscal discipline.

Mr. Greenspan said he met frequently at the White House with President Bush and Vice President Cheney, but his enthusiasm for the new administration cooled as he discovered that Mr. Bush ignored much of his advice.

In his first term, Mr. Bush would rarely let a week go by without visiting a small business or a camera-friendly factory to extol entrepreneurship or the importance of tax cuts. But back at the White House, Mr. Greenspan got virtually no response to his advice that the president veto spending bills. Mr. Greenspan said he was told his recommendations would be "taken under advisement."

His observations are in line with those of others who engaged Mr. Bush frequently, including the former Treasury secretary, Paul H. O'Neill, who was fired in December 2002. After the Sept. 11 attacks, they said, Mr. Bush would become animated and even passionate about counterterrorism or the war in Iraq. But they said that broader economic discussions bored him, unless he could take them to the factory floor. (Edmund Andrews, NY Times)
It's as if, in 20/20 hindsight, Greenspan is finally recognizing how much power he personally conferred to the Republicans in Congress from 2001 to 2006. So, I suppose, In his own way, Greenspan's atoning for the damage he did by explaining that the Republicans had it wrong - and, that he was wrong to allow his name to be used in support of their actions.
None of his revelations are exactly news to those of us who watched Greenspan's congressional testimonies with dropped jaws and disbelief. Many of us already understood all of the above, except for the part about Greenspan one day deciding to regret his influence on Congress.
Even so, I am hopeful that perhaps some of those who have backed Bush's tax cuts and wild deficit spending over the recent years will now take notice.
If Greenspan's book can convince more people to fund programs at home with revenues that we can begin to collect again from corporations and individuals here at home, I'm happy. I'll be even happier still if Greenspan's book will bring new converts to the idea that we need to stop spending money in Iraq that we've borrowed from China and expect our grandchildren to pay back. If even one person can begin to understand that we cannot cut taxes without harming our middle class - I'm grateful.
As officials leave the Bush administration, there is no shortage of criticism of this White House: Disenchanted hawks are writing that Mr. Bush has abandoned the certainties of the first term and taken too soft a line on North Korea and Iran; from the other side of the spectrum, former officials are telling tales about how the administration bent rules on torture or domestic spying.

But Mr. Greenspan, now 81, is in a different class, by dint of his fame, his economic authority and his service across party lines. His critiques are likely to have more resonance among Mr. Bush's base. (NY Times)
Greenspan paints quite a contrast between the Clinton and Bush administrations.
Greenspan calls Bill Clinton a "risk taker" who had shown a "preference for dealing in facts."
In Clinton's first term, he got control of the national budget and reduced the large deficit that had been a result of Ronald Reagan's fast and loose spending in the 1980s.
Once the deficit was in control and a surplus assured, in Clinton's second term, Clinton dealt with the new budget surplus by establishing values and priorities. Greenspan applauds Clinton's proposal to devote the extra money to "save Social Security first."
Greenspan writes, "I played no role in finding the answer, but I had to admire the one Clinton and his policymakers came up with."
Greenspan reserves his highest praise for Bill Clinton, whom he described in his book as a sponge for economic data who maintained "a consistent, disciplined focus on long-term economic growth."
(More about Greenspan's book here.)