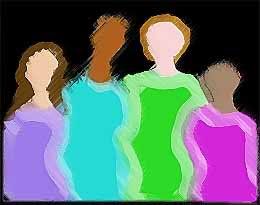 Women make up 51 percent of the population and 55 percent of all registered voters. For six decades after women obtained the right to vote in 1920, they voted at lower rates than men. In the 1980 election women caught up with men, and according to U.S. Census data, in every subsequent election, women have voted at an increasingly higher rate than men.
In all recent elections, women have outvoted men (in terms of both turnout rates and actual numbers) in every racial and ethnic group - African American, Latino, Asian/Pacific Islander, and white.
In 2004, the rate of voter turnout was 60.1 % for women, compared with 56.3% for men. The difference in 2004 translated to 8.8 million more female voters than male voters. 2004 is up from 2000 by a million extra women voters, since in 2000, only 7.8 million more women than men voted. So, perhaps, in 2008, there will be over 10 million more female voters than male voters! That's a big difference.
Here's what I really want to know. How come YouTube ignored these numbers when setting up the recent debates? And, which candidate will women vote for?
YouTube's Undeniable Gender Gap
Nonpartisan women's groups like Mom's Rising, League of Women Voters, and Women's Voices Women's Vote are hoping this presidential race puts women's issues squarely on the national political stage.
Women make up 51 percent of the population and 55 percent of registered voters, the majority of the electorate. Many of us have known that we (women) are in the majority for quite some time (pretty much our whole lives). It's never really been a secret.
But, does YouTube know it? How about CNN?
On July 23rd, a two-hour debate was sponsored by cable television's CNN in partnership with online video-swapping service YouTube Inc. and Google Inc.
Thousands of web visitors posted questions on YouTube.com for the
Democratic presidential candidates who were to gather in South Carolina for that debate.
Questions were submitted by Internet citizens who uploaded their questions by video to the YouTube site. Many people (including some everyday citizens) liked the format, seeing it as a sign of the prominence of new media in the old business of elections and a resurgence of democracy in debates.
Most of the questions came from young people (which is a good thing and something I know that my friend, Ally, very much appreciates).
The questions were refreshing, blunt and earnest, and sometimes bizarre.
Two video submissions featured men singing about taxes and the No Child Left Behind education bill. The first question began with a voter named Zach asking, "Wassup?" Another featured two men from Tennessee playing hillbillies and asking if all the talk about Al Gore entering the race hurt their feelings.
39 video questions out of thousands were chosen.
But, just exactly where were the questions from women in the YouTube debate? YouTube, wassup?
Only 9.5 out of 39 questions picked to be televised in the debate were questions from females. Say, what?
(It doesn't matter that 7 out of 8 of the candidates were male. What percentage of candidates is female has less to do with democracy than with money, position and power. Even if all of the candidates were male, it seems to me that a least 51% of the questions submitted needed to come from female voters since that percentage would accurately reflect who has registered to vote in the election.)
Since women make up 55% of registered voters, shouldn't 55% of the questions be from women and not just 24% of the questions?
If men make up only 49% of the population, shouldn't 49% of all the questions be from men instead of the 76% that YouTube picked?
24% of the questions cannot add up to adequately representing 55% of registered voters!
YouTube, I think you blew it. Do you even know that you blew it? Hmmm.
Now for the other unanswerable question...
Who Will Women Vote For?
Well, even though the Female Majority wasn't "allowed" to ask the majority of questions in the YouTube debate, there's no denying the fact that women will decide who gets elected to the office of president.
Women are the deciders. (Sorry Bushie, you'll need to move over for this one.)
In 2005, Jennifer Pozner of WIMN wrote this for tompaine.com:
"Two recent [2005] Gallup and Roper Public Affairs polls show overwhelming support for female politicians among the general public: between 79 and 81 percent of Americans say they would feel comfortable with a female president, and similar numbers believe a woman would handle homeland security and foreign policy issues as well as or better than a male president.

So, if the public is ready for a female president, why is it that the closest a woman has come to the Oval Office is Geena Davis on a Hollywood backlot? And, for that matter, why are women still stuck with token representation in the Senate, the House, and the Supreme Court?

In part, this continued inequity can be traced to a media climate still mired in outmoded attitudes echoing Tom Brokaw, circa 1984. Women audacious enough to seek political power are routinely dogged by gender-specific coverage that focuses on their looks, fashion sense, familial relationships and other feminizing details that have nothing to do with their expertise.
A July 2007 New York Times/CBS News poll found that over all, women tend to agree with Sen. Hillary Clinton on the issues and see her as a strong leader and as a positive role model.
The poll finds there is still a significant gender gap in presidential politics, with women viewing Clinton much more favorably than men do:
"On specific issues, a majority of voters thinks Clinton would make good decisions on health care (74 percent) and foreign policy (68 percent), while 58 percent think she'd be effective as commander in chief.

"Forty-one percent of voters think Clinton's vote authorizing the Iraq war was a mistake, while 53 percent think it was not. But even those who see it as a mistake don't feel overwhelmingly that she needs to apologize.

"There is a significant gender gap on nearly every question asked about Clinton, with women having a more positive opinion of her than men."
Women view Sen. Clinton more favorably than men do, but she still faces skepticism among some women, especially those who are older and those who are married, according to the same New York Times/CBS News poll.
Here's a really great graphic that shows that breakdown.
Remarking on that poll, Katherine Seelye and Dalia Sussman wrote this last week in the New York Times:
"But the poll also held some warning signs for Mrs. Clinton, 59, the junior senator from New York.

"Forty percent of voters view her unfavorably, more than for any of the other major candidates for president (although they are not as well known). Neither men nor women fully trust that she is saying what she really believes, the poll found.

"Mrs. Clinton's choices as a woman and a political figure have been intensely scrutinized during her 15 years on the national stage, and as she runs for president, the debate about her remains polarizing, politically and culturally...

"A majority of single women view Mrs. Clinton favorably, while married women are split. Thirty-nine percent of married women like Mrs. Clinton - about as many as like her two closest Democratic rivals, Senator Barack Obama of Illinois and former Senator John Edwards of North Carolina.

"But 39 percent also view her negatively - significantly more than have a negative view of Mr. Obama and Mr. Edwards, who are not as well known."
Anne Komblut and Matthew Mosk wrote earlier in the summer about Clinton's lead with women, explaining it this way:
"Clinton is drawing especially strong support from lower-income, lesser-educated women - voters her campaign strategists describe as 'women with needs.' Obama, by contrast, is faring better among highly educated women, who his campaign says are interested in elevating the political discourse."
I haven't seen any hard or soft data that adequately supports the Washington Post's assertions above about why there might be a socio-economic divide among women voters. I'm thinking that idea comes mainly from campaign rhetoric.
The Obama camp, however, is working hard to get the female voters.
In April, Michelle Obama, the wife of Sen. Barack Obama, helped launch "Women for Obama." Explaining the purpose of Women for Obama, their website says,
Women for Obama will forcefully and enthusiastically engage women, enlist women and empower women to recognize the difference our candidate can make in the "08 race and the world - and the difference we as women can make for our futures.
(I'm not sure what that statement means, really. I think maybe you have to be an Obama insider to get its meaning. Like many of Obama's speeches, I'm having difficulty finding the concrete content there, but, I'll keep my mind open about it. I promise.)
Michelle Obama, attempts the explanation in an interview with The Des Moines Register,
"(Women for Obama) is a recognition that women are going to count for 60 percent of the vote this time around."
Allison Keyes, reporting for All Things Considered, puts it this way,
"The other democratic candidates aren't just twiddling their thumbs. Betsy Myers is chief operating officer and chairwoman of Women for Illinois Sen. Barack Obama. She says they are seeing increased numbers of women at Obama's fundraisers, and 60 percent of their online participants are women.

"Myers says the Obama campaign's outreach includes a variety of strategies, including forums, rallies, and having his wife, Michelle engage women at various events."
While I know most of this campaign staff rhetoric at this point, I do like the way that John Edward's campaign staffers responded to the gender question. Once again, from that All Things Considered report:
Some candidates, like former Sen. John Edwards, are taking the tack that women shouldn't be treated as a separate entity.

"John Edwards' campaign treats people as people across the board rather than as demographic groups," explains Senior Campaign Adviser Kate Michelman.

Michelman acknowledges that there is a Women for Edwards component, and that Edwards discusses women-centric issues like health care and equal pay. But she says the last thing women want is for people to assume that they are monolithic and will all vote for a female candidate.

"Women voters are going to be looking at the candidate's views, the candidate's values, the kind of person the candidate is, and where the candidate wants to take this country," Michelman says.
Believing that she's the right person for the job Hillary Clinton said this at the CNN/YouTube debate,
"I hope people will vote based on who they think the best person for the job at the time will be.

"Just as many people would be upset if black people said, 'I'm voting for Barack because he's a black guy.'

"We have to think more broadly about what this country needs, and it doesn't necessarily have a gender or race...

"I'm running because I think I'm the most qualified and experienced person to hit the ground running in January 2009."
Elizabeth Edwards, John Edward's wife, countered in the magazine Salon, by saying that John Edwards would be a better champion for women than Hillary,
"Sometimes you feel you have to behave as a man and not talk about women's issues.

"I'm sympathetic - she wants to be commander in chief - but she's just not as vocal a women's advocate as I want to see.

"John is."
According to the AP and Boston Globe, Bill Richardson says that Hillary Clinton isn't the only women's candidate.
Gov. Richardson said that he has already appointed women to top jobs as a member of Congress, Cabinet secretary, and governor. He explains it this way:
"This is not a constituency issue. This is not an issue of women being a special interest. Women are the majority in this country. What I'm doing here is addressing the interests of the majority."
The presidential candidate who better recognizes and responds to the growing clout of women voters may well find himself or herself in the White House for the next four years.
We need less rhetoric and more discussion of issues. The female majority wants to know - where do the candidates stand on issues that are important to women?
Victory in this election will likely go to the candidate who better mobilizes supportive subgroups of female voters - and develops effective issue-based appeals that speak to the concerns of women, especially women who make their decisions late in the campaign.
The debates should provide windows into those key issues!
So YouTube, you better get it right next time.
C'mon. No kidding.
These deciders need better debates.
(YouTube, one more time, what were you thinking?)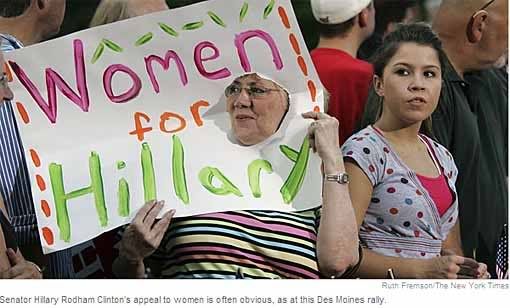 In future posts, I'll try to figure out what issues matter most to the majority female voters AND I'll also try to figure out how the candidates differ on those issues. Wish me luck!
(Didn't see the YouTube debates? For a full transcript of the CNN/YouTube debates, go here, and to view the questions on video, go here.)