The National Urban League released its annual report a couple of weeks ago, The State of Black America 2007: Portrait of the Black Male
.
The Urban League does the nation a service every year by tracking and evaluating the progress, or lack thereof, among African Americans, as compared to whites, along six "weighted index values," including Total Equality, Economic, Health, Education, Social Justice, and Civic Engagement.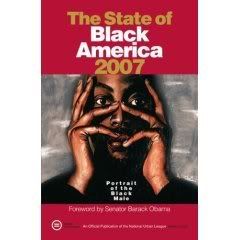 The 2007 report notes that African Americans status stands at 73.3% of whites status in the cumulative index. Economically they are doing 57% as well as whites; 78% as well in terms of health; 79% as well in the area of education; 66% in overall social justice concerns and 105% in the arena of civic engagement, the one category in which they out distance the white experience in America today.
Here are some of the noteworthy facts of life for black Americas in 2007:
African American men are more than twice as likely to be unemployed as white males (9.5% compared to 4% for whites).
Among young men (20 to 24-years-old) 76.5 of whites were employed, compared to 68.8% of blacks.
For blacks over 25-years-old with less than a high school education 60% are unemployed, as compared to 53% of whites.
African American men earn only 75% as much as their white counterparts.
For African Americans under 18-years-old, 33.5% live in poverty, compared to 10% of white youths.
Among black Americans, 47.9% own their homes, whereas 75.8% of whites own homes. In addition, blacks are three times more likely to obtain high-priced mortgages than whites.
Black men are more than 7 times more likely to be incarcerated than white men. Average jail sentences for African American males are 10 months longer than for white men.
Young black men between 15 and 34-years-old are nine times more likely to die of homicide than white men the same age and they are almost seven times as likely to contract HIV/AIDS.
Black children do well in early childhood--over two-thirds are enrolled in early childhood education programs, such as Head Start, compared to 64% of white children. However, black children, especially males, begin to drop out in middle school and high school at alarming rates.
Twenty-one percent of teachers in majority black schools had less than three years experience, compared to 10 percent in majority white schools.
Dollars spent per black student was 82% of those spent per white student.
The Urban League report goes on to suggest a number of steps to improve the lives of African Americans, and black males in particular. The report would be well worth reading.
There is much to do for all of us who seek a nation of opportunity and equal access for everyone.
Thanks to the National Urban League for this important, ongoing research.
You can find the Executive Summary here (pdf) or you can read about or purchase a copy from Amazon.com here
.
"The crisis of the black male is our crisis... It is in our shared interests and in the interest of every American to stop ignoring these challenges and start finding the solutions that will work. In the end, we want the story for black America to be one universal story where success is the norm and struggles are overcome." - from the forward by Senator Barack Obama