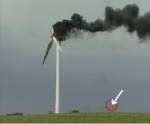 At first I thought we were the only rural community facing the threat of "forced industrialization by wind farm". I was wrong. All across America, indeed all across the world, associations are forming to protest the desecration of peaceful rural areas by wind farm developments. Despite virtually complete disregard for these stories by mainstream media outlets, community battles are raging in 20 states against the placement of these undesirable and environmentally destructive projects in inappropriate locations. Rural America is under attack on countless fronts and common citizens are having to organize themselves to stand up for their rights in the face of galloping corporate greed that seeks to siphon off massive government subsidies and tax incentives without regard for the rights of rural residents or any respect for local environmental preservation.
For many communities, awareness has come too late and victimized residents can only create websites to publicize their plight and blog their own personal horror stories. In other cases such as our own in western Kansas, there is still hope.
In the words of Congressman Pete Stark of Hayward, CA, "These aren't wind farms they are tax farms."
Here are some links to various battles, ongoing or otherwise, or the legislative interventions arising from them:

THE SCAM:
Federal tax benefits pay for up to 65% of the capital cost of wind power projects in the USA. Limited liability corporations (LLC's) are created that front for big oil companies (e.g. Shell) or other companies using venture caital to capitalize on government subsidies for 'alternative power generation'.
Representatives of these 'shell' companies then solicit key large landholders in selected rural areas and sign them up for lucrative deals for the placement of windmills on their property, and reveal to them generous tax breaks for which they become eligible, on both property taxes and depreciation on the towers, all mandated by recent state and federal legislation. These corporate shills covertly build a consortium of landowners willing to prostitute their land, although to be fair many elderly or non-resident landowners are duped into signing documents they don't understand. In many cases, signatories have no real idea what a wind farm is, or what kind of heavy industrialization such development really involves. The next step is to buy up all the easements needed to run power lines from the project and this is also done on the sly to alert as few potential opponents as possible.
The next corporate tactic is to seduce municipal or county governments into hosting these projects, often far too close to rural neighborhoods,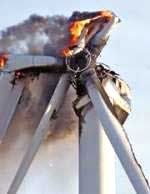 just so they can take advantage of existing electrical grid infrastructure to distribute the power. Corporate reps make a glossy presentation emphasizing all the 'community benefits' and point out how this is in line with federal and state mandates to promote alternative energy generation and reduce dependency on foreign oil. (In reality, we don't generate any electricity by burning foreign oil - just our own reserves of coal and natural gas). Even the CO2 emission reduction benefits are questionable, as it takes 7 years to recover the carbon footprint of installing a single tower and their lifespan is uncertain.
What the corporate reps don't mention is that no federal or state regulations yet exist that govern or oversee the siting, operation, or corporate responsibility of wind farm developments. Neither the Environmental Protection Agency, the U.S. Fish and Wildlife Service, nor the National Institute of Health have established any environmental, ecological, or human health guidelines for wind farm operations.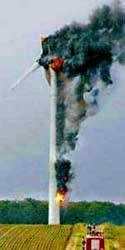 Given the opportunity, they ensure that the local community unwittingly assumes total responsibility for any problems, social or environmental, that might arise from these developments, while the bulk of local profits are harvested by a few privileged landholders and the corporations themselves.
Once the deal is approved by local government, the LLC constructs the project and then sells it off to another company, which in turn auctions off the power to the highest bidder, without any breaks for local consumers who pay all the environmental costs. What is not commonly known is that the higher costs of wind power generation are hidden from consumers initially, but eventually emerge in the form of power bills 1.5 to 3 times higher once facilities are brought on line. Such is the insidious nature of so-called 'Renewable Portfolio Standards' that conceal increases in consumer power bills until after project construction is completed.
Typically, the whole deal is set up very quietly until it reaches the final stage requiring local government approval. In our Kansas case, affected landowners received a mere 20 day notice of a zoning board hearing - on a $200 million deal affecting 11,000 acres of prairie - a deal that CPV corporation and the 'priviliged' local participants have been planning for at least 2-3 years! The local government is 'bribed' with an annual fixed payment contribution (in our Hays, Kansas, case $600,000) and the project can then operate tax-free until it becomes unprofitable, at which time all corporate interests write off their depreciated investment and simply walk away from the environmental insult they have created - hundreds of towers 400 feet tall that cost an average of $1,000,000 each to remove.
And the very same landowners who have benefited financially at the expense of their neighbors can potentially hold the community at large responsible for their removal. I really never thought that social and environmental abuse on such a massive scale would ever be possible here in the United States.
(You can keep up to date on developments regarding the proposed wind farm in Ellis County here at everydaycitizen.com as well as at the site of the Ellis County Environmental Awareness Coalition)